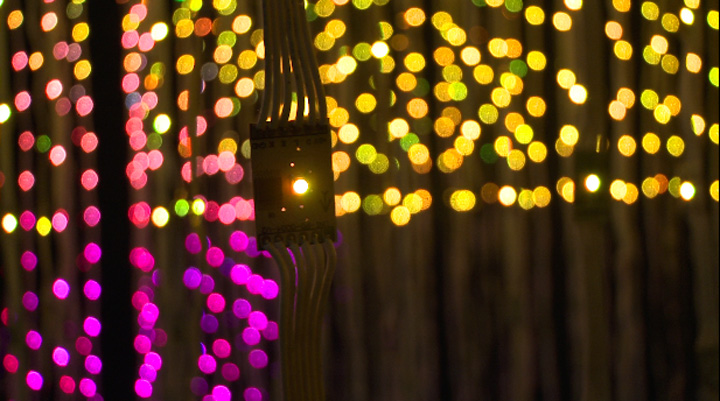 We have just emerged from six days in a black box at the Kinetica Art Fair, nurturing Surface, the first project on the Ocean of Light 3D LED grid. It was an intense period, with apparently some 10,000 people passing through in three days.
Surface is a responsive virtual eco-system that occupies physical space.  It uses a room-sized 3D grid of individually addressable points of light to simulate movement in physical space. The space is dominated by a surface – the boundary between two fluid virtual materials.  The materials are affected by sound – nearby noises create waves that ripple across the surface.  The surface is, however, unstable: the turbulence caused by noise also triggers luminous blasts. Abstract insect-like autonomous agents, aware of their surroundings, also navigate and negotiate the environment and the surface.  The result is a series of interconnected spaces and environments, overlapping physical and virtual spaces that coexist and are aware of each other.
For us, it was also an intense learning experience.  The first outing for the Ocean of Light, a hardware project supported by the Technology Strategy Board, was a litmus test for whether this kind of 3D visuals work on the uninitiated – whether people "get it". It seems that they do – responses were very positive. We've also had a lot of ideas – our own and suggested by others – about future directions and options.
Press coverage included this on BBC News and this on the Daily Telegraph.
The images here are taken from a forthcoming documentary on the project by James Lane – details to follow.