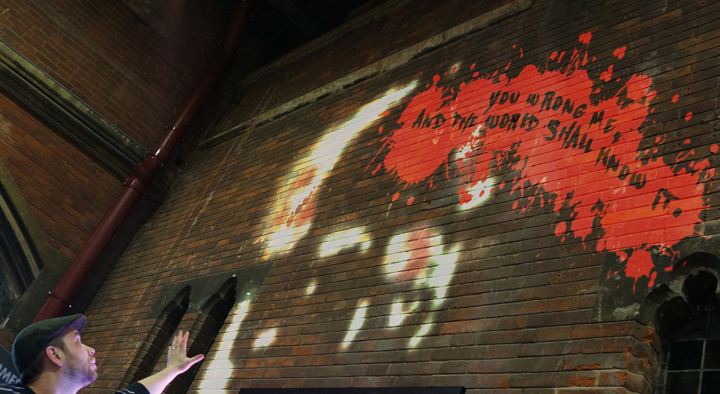 Living Walls – fools, lovers and malcontents, is a new trio of works by Squidsoup. The works were commissioned by the Royal Shakespeare Company as part of the World Shakespeare Festival, and are on exhibition at the Royal Shakespeare Theatre (Stratford-upon-Avon, UK) from today – apparently the day of the bard's birth, and death.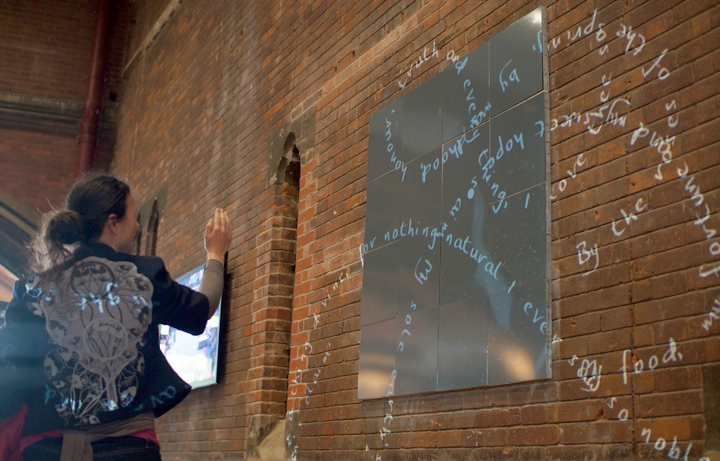 From the RSC press release:
Artists Squidsoup bring the walls of the Royal Shakespeare Theatre to life with a set of three dynamic digital projections made of animated texts and quotes from Shakespearean characters in what promises to be an exciting, interactive encounter for visitors.
Commissioned specially for the World Shakespeare Festival, Living Walls places Shakespeare in the digital world. Using text-based projection mapping and self-animating visuals, Squidsoup's display reacts and changes to the actions of passersby, with often playful results. Words wriggle across the walls and patterns morph into insect like-creatures, scuttling around and leaving curses, messages and questions in their wake.
Living Walls blurs the barrier between the virtual and the real world, conveying as the title suggests, the sense that the walls of the theatre really have come alive.
Squidsoup have created interactive digital experiences incorporating three classic Shakespearean character types – the malcontent, the lover and the fool.
More images HERE. Video coming soon.