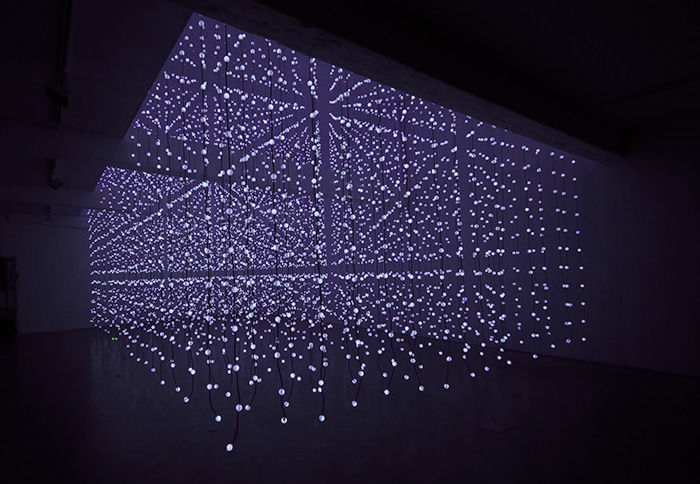 Submergence transforms the ROM gallery space into a Mixed Reality environment where virtual and physical worlds coincide. The result is an immersive walkthrough experience that uses light to alter our perceptions of space and presence.
Imagine walking through a virtual world, where pixels on a screen are replaced by thousands of points of light floating in space. These points of light create environments, atmospheres and movement in physical space. This is Submergence, a new project by digital arts collective Squidsoup. 8,064 points of light suspended in a physical walkthrough space measuring 8m x 4m and 4m high.
Submergence is the culmination of a five year research project exploring interactive media experiences that occupy physical space. It will be on show at ROM for Kunst og Arkitektur, Oslo, Norway, from 17 January to 17 February 2013.
The Submergence exhibition will also feature in Oslo LUX 2013, a one day conference and event taking place in Oslo on 7th February 2013.
Submergence // A Squidsoup by Anthony Rowe, Gaz Bushell, Chris Bennewith, Liam Birtles and Ollie Bown
ROM for Kunst og Arkitektur Maridalsveien 3 N-0178 Oslo Norway
January 17 – February 17 2012
Supported by Arts Council of Norway / Norsk Kulturråd // www.kulturrad.no ROM for Kunst og Arkitektur // www.r-o-m.no Oslo School of Architecture and Design //  www.aho.no Oslo Lux // www.oslolux.no