We are delighted to be showing Submergence again soon, and on home territory.
The piece is FREE to visit, and open from Friday 13th September until Saturday 12th October It is a two minute walk from Bristol Temple Meads Station, just across the pedestrian bridge from the excellent Creative Common. BS2 0DW will apparently GPS you there. Opening times are 12.00-14.00 and 17.00-21.00 Monday – Friday, and all day at weekends (12.00-21.00).
This, from the press release:
Visitors will experience a virtual world, where pixels on a screen are replaced by thousands of points of light floating in space. Created by award-winning digital artists Squidsoup, Submergence has never been seen before in the UK. With two successful international showings at the Geneva Mapping Festival and in Oslo, the remarkable creation is finally ready to land back in Bristol, for its UK premiere.

This breath-taking installation is designed to be experienced from inside a large black cube (8 metres x 4 metres). Once inside you can walk freely around, creating a three-dimensional immersive experience: you are completely surrounded by light, sound and movement. The installation takes around 20 minutes to unfold, as the lights gradually increase in intensity.

You can find Submergence in The Eye, beautifully placed overlooking the water on Glass Wharf, just over the bridge from the lively Creative Common and Temple Meads Station.

Submergence is part of a series of Bristol Temple Quarter commissions, coordinated by Watershed, Knowle West Media Centre and MAYK, with support from Bristol City Council and Arts Council England. They will pop up, excite and re-invent perceptions and potentials.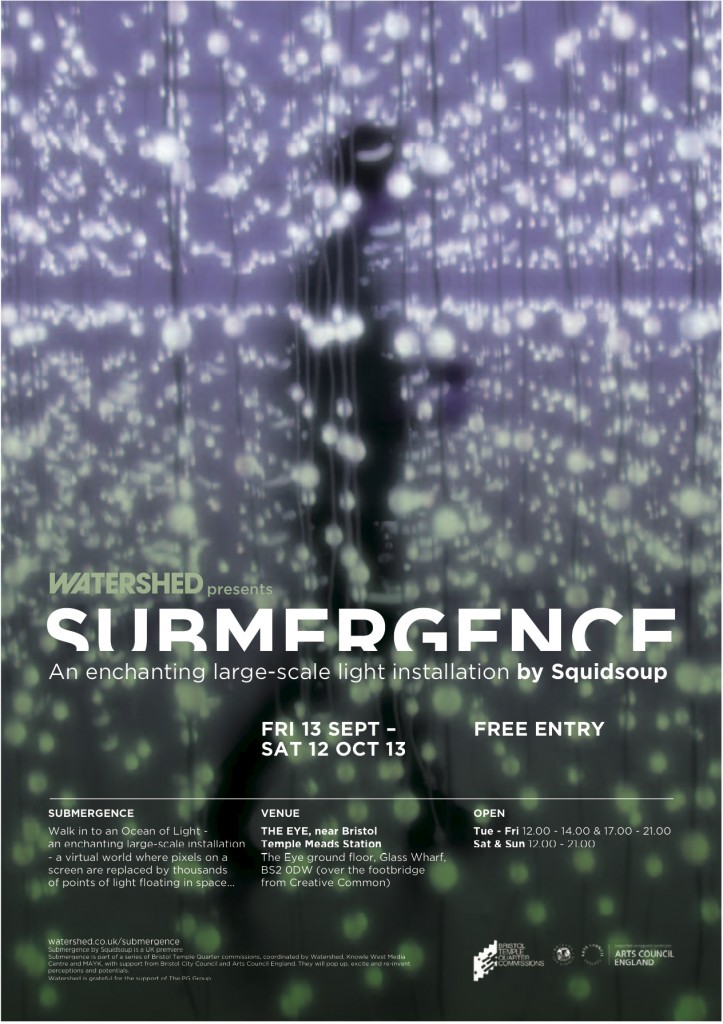 A whole bunch of pictures HERE on the setup and background workings of the project. We've also been posting a few bits and bibs on Instagram.