A thousand spheres of light, each on a stalk and bobbing gently in the wind, fill a large clearing. The lights visualise waves of energy flowing across the space; acting in synchronicity, creating changes in ambience, choreographed patterns of light enveloping the space.
::

A wonderful opportunity to show a new commission, Aether, by the shores of a loch in Faskally Woods in Perthshire, Scotland. The piece was commissioned by Enchanted Forest as part of their annual illuminations. On show every evening from 29 September to 30 October 2016.
::
Leeds Dock invited us to install a new work, to music by Four Tet, on a floating pontoon in Leeds Dock as part of Light Night Leeds 2016. The Four Tet track is Unicorn.
::
Field is an immersive artwork and memorial for 923 Royal Welch Fusiliers who died at the Battle of the Somme during the First World War and have no known grave.
Field has been created by award-winning international art and design collective Squidsoup, commissioned by Welsh National Opera to accompany our major new opera, In Parenthesis by Iain Bell.
The 923 lights represent the many fallen fusiliers whose names are inscribed on the Thiepval Memorial in France. Some of these men would have served with 'In Parenthesis' author, David Jones, during the battle at Mametz Wood July 1916.
The work seeks to create an environment for remembrance and contemplation; one that connects the spiritual and elemental with the physical, the unseen with the seen, our past with our present.
::
Tectonic uses a combination of visual approaches, combining the particle systems used in our earlier work with more geometric forms. This is also a piece where the music is to the fore. The piece was  a commission by Lava to celebrate their 25th anniversary and shown in their studio from December 2015 – January 2016
::
Using technology and approaches developed for our installation works, we developed a stage lighting show in collaboration with Four Tet, to be used in a series of concerts of his latest album, 'Morning/Evening'. The concerts were held at venues such as the ICA (London), Sydney Opera House (Australia) and Roundhouse (London).
::
A commission for Royal Botanical Gardens, Kew as part of the Christmas at Kew celebrations. The walkthrough experience was seen by some 160,000 visitors in 6 weeks in late 2015.
::
Enlightenment (2015) was commissioned by Salisbury Cathedral to celebrate and be inspired by the ideas and progress of the Magna Carta since it was sealed 800 years ago. The work ponders the effects that the document has had on people and societies around the world. Magna Carta has come to symbolise key messages of human rights and equality – concepts that have rippled through space and time. But these ripples have been physical as well as intellectual – the ideas are highly charged and often challenge the status quo, resulting in a long list of power struggles and conflicts.
::
Aeolian Light was installed at Salford Quays from 17 December 2014 to 7 January 2015. In that time 547,973 people visited the exhibit.
Inspired by the windy location at Salford Quays, Aeolian Light visualises the wind as an illuminated chaotic force. Virtual debris and imaginary fields of energy pass through the work, carried on the wind in gusts and blasts. The strings and lights also sway physically in the wind, and people add a layer of illumination and turbulence as they walk through the piece.
Aeolian Light is a highly evocative outdoor installation artwork by digital artists Squidsoup, using over 12,000 individually controlled lights suspended in space to create an unforgettable, immersive, dynamic, walkthrough experience that is also a very striking visitor experience.
::
WaveLight is part of a permanent exhibit at Høgskolen i Oslo og Akershus, Andrea Arntzens hus, Pilestredet 32, Oslo.
The piece is one of three works that share a 16m x 4m screen by the main auditorium. Other works by Marius Watz and Bård Ask – if you are visiting, it may be worth enquiring as to which work is running.
WaveLight uses camera based interaction, enabling passersby to stir up turbulence and create waves of light through their movement. The emitted light illuminates the entire space in a fluid ever-changing cycle.
::
Submergence transforms physical space into a Mixed Reality environment where virtual and real worlds coincide. The result is an immersive walkthrough experience that uses light to alter our perceptions of space and presence. The experience is akin to walking through an abstract virtual environment, where pixels on a screen are replaced by thousands of points of light floating in space. These points of light create evocations and atmospheres, presence and movement, in physical space. More
::
Volume 4,096, a new permanent exhibit by digital arts group Squidsoup, is now on permanent display at the Royal Society New Zealand. The piece is suspended 6m above visitors in the main foyer of RSNZ's beautiful new Headquarters, and can be seen from three floors within the building, and also outside. More.
::
"We have received disturbing reports of an outbreak of beetles, spiders and centipedes at Phoenix Square, an otherwise wonderful cinema, café and media centre in Leicester. Digital artists Squidsoup have been on-site trying to contain the infestation but they may need your help…" More.
::
A museum exhibit on permanent display in the main entrance of At-Bristol in the UK. The exhibit is an animated, interactive evolutionary timeline covering the last 460 million years on planet Earth. More.
::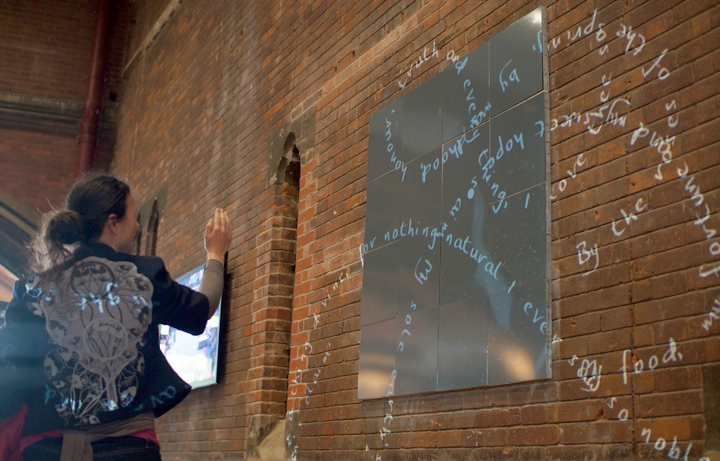 With Living Walls – fools, lovers and malcontents, Squidsoup bring the walls of the Royal Shakespeare Theatre to life with a set of three dynamic digital projections made of animated texts and quotes from Shakespearean characters in what promises to be an exciting, interactive encounter for visitors.More.
::
Scapes conjures into being three-dimensional cities, landscapes and abstract architectures purely from sound, software and light. Chimaera-like visions of ephemeral spaces are created and destroyed in real time. They occupy physical space, but only fleetingly. They leave nothing behind when they, and the sounds that spawned them, vanish. Scapes uses the Ocean of Light 3D LED grid. More
::
Ocean of Light explores the creative and immersive possibilities of light-based visualisation in physical space, using bespoke hardware to create dynamic, interactive and three-dimensional sculptures from light.
Surface is the first artwork to be exhibited using the Ocean of Light hardware. It uses minimal visuals and sound to evoke character and movement. Autonomous entities engage in a playful dance, negotiating the material properties of a fluid surface.  More
::
Pest Control projects a virtual ecosystem populated by strange insect-like creatures into physical space. These creatures are aware of their surroundings and each other, and all have their own characteristics: some are aggressive carnivores whilst others are gentle, timid and vulnerable. They all therefore react in very different ways to human interference. More
::
Exploring the possibilities of 3D visualisation in physical space, using a NOVA 3D LED grid to reinterpret the classic 2D game Connect Four. The piece was inspired by The V&A's Cold War Modern exhibition. More
::
Glowing Pathfinder Bugs (2008.)
Glowing Pathfinder Bugs combines physical play (moulding the sand in a sandpit) with virtual animal husbandry, and is aimed at 6-12 year old kids. More
::
Fly like a bird in a virtual and dynamic composition.
Driftnet moves like a flock of birds, a swarm of bees, planets in a galaxy. Everything is connected, and becomes part of a complex interdependent network. More
::
Freq takes the shape of your shadow and turns it into sound. Freq2 is part musical instrument, played using whole body movement, while also responding to ambient influences. More
::
An exploration of the boundaries of personal space, the piece allows visitors to collaborate through their movement and relative position. More
::
Permanent virtual sculptures are created out of fragments of thought and throwaway comments, giving each message a new context and added meaning. More
::
Envisaging a gaming environment where everything is stripped out except the sound and the ability to move. The visuals become a reference for the sounds, a means of visualising the structure of what is being listened to. More