Part musical instrument, part composition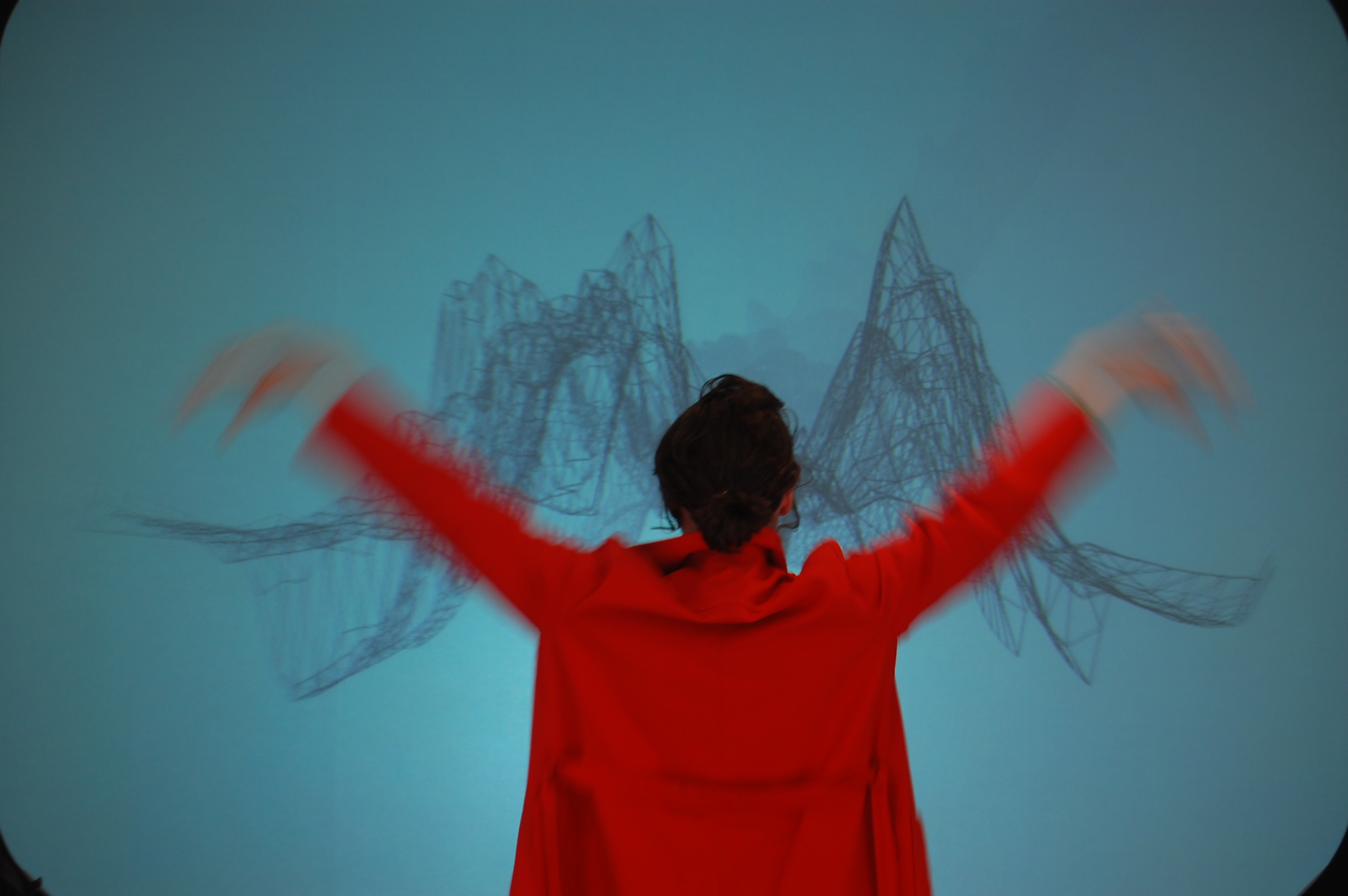 Freq takes the shape of your shadow and turns it into sound. The piece can be played like an instrument, creating dramatic and complex land- and sound-scapes derived directly from one's own physical movement in space.
Freq uses your whole body to control the precise nature of a sound – a form of musical instrument. The mechanism used is to trace the outline of a person's shadow, using a webcam, and transform this line into an audible sound. Any sound can be described as a waveform – essentially a line – and so these lines can be derived from one's shadow. What you see is literally what you hear, as the drawn wave is immediately audible as a realtime dynamic drone.
A temporal component is added to the mix; a sonic composition in which to frame the instrument. The visuals, an abstract 3-dimensional landscape, extrudes in real-time into the distance, leaving a trail of the interactions that have occurred. This 'memory' of what has gone before is reflected in the sounds, with long loops echoing passed interactions. The sounds, all generated in real-time from the live waveform, are played at a range of predefined pitches and times creating a rich evolving soundscape.
The piece reacts to movement from passing traffic and pedestrians as well as direct user interaction, forming a kind of feedback loop; an alternative soundscape for the local environment.
Shown at various Cybersonica 06 events:
TATE Britain, part of Late at Tate Britain/Art of Noise (5 May 2007)
Dana Centre (Science Museum, London, 19-20 May 2006)
Phonica Records (Poland Street London, 8-20 May 2006)
b.tween festival (National Museum of Photography, Film and Television, Bradford UK, 24-26 May 2006)
Also shown at
Cheltenham Science Festival (UK, 6-10 June 2007)
StreetVibe  (the Scoop, Tower bridge, London, 14 June 2008)
Kedja Festival (Oslo School of Architecture and Design, Oslo, 12 October 2009)
Site Festival(Stroud UK, May-June 2010)